All power to Airbnb
When it comes to power and magnitude, Airbnb is the all mighty force of vacation rental platforms. Number to contender in the fight for customers is Homeaway, which in includes VRBO, and it is railing far behind the leader. In the larger short-term vacation rental markets, such as Miami and Miami Beach, Airbnb is more than ten times bigger in volume, including listings and turnover. In Miami and Miami Beach there are 17,843 listings between Airbnb and Homeway.
A common term when traveling is to say "I stayed at an Airbnb". Not only have they acquired the majority marketshare of short-term vacation rentals, but it has become an umbrella term for the industry as a whole. Similar cases can be found when searching the world wide web, where the term 'Googling' has derived from another tech-giant. In addition to that, what started out as a plaster company, the term 'band-aid' became the most popular term used for the product.
Because of this, there has been a clear correlation found between the uses of the words 'short-term vacation rental' and 'Airbnb', where the later has been increasing, and 'short-term vacation rental' has been decreasing in the past few years.
Read more about why that is an issue here, and read more on the use of the terms here.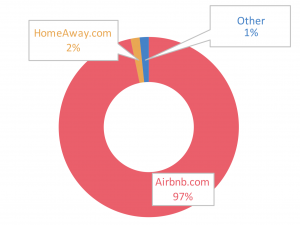 Airbnb holds the power.